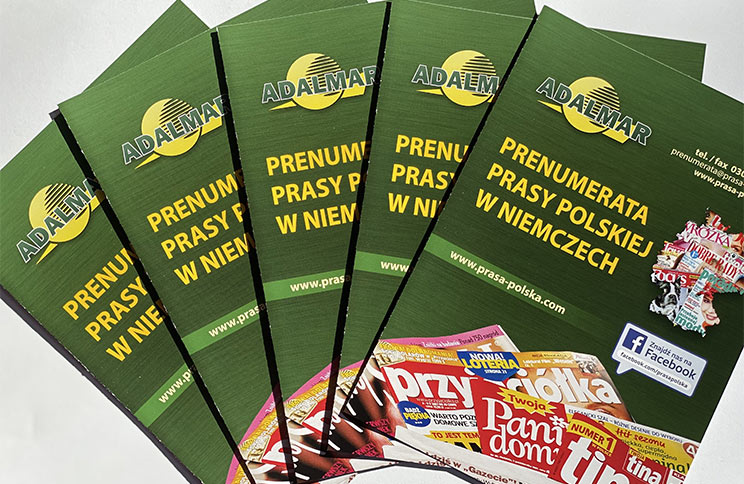 ADVERTISING FLYERS
Would you like to advertise your services or products on the German, Dutch or Belgian market? Thanks to us, you will reach many potential customers!
We offer flyer insertion into magazines sent to Polish stores abroad. We can limit the dissemination of advertising flyers to a specific country or magazine title.
Are you interested in this service? For details, call on 0049-30-77391865 or 0048-68-3213055
Terms and conditions of cooperation
The customer prepares advertising flyers and delivers them to a warehouse in Zielona Góra (by post, in-house or outsourced courier service).
We will issue an invoice upon receipt of your dispatch or notification of shipment.
The service will only be performed once the relevant amount has been deposited to our bank account or provided by our courier.
We accept advertising flyers on a maximum of 4 pages in A5 format as a whole (folded A4 sheet).
At the customer's request, advertising flyers can be inserted in specific press titles.
Each parcel with advertising flyers/inserts should include the number of pieces!
All prices in the offer are net prices.
Price list
| | |
| --- | --- |
| Up to | 4 000 pieces – EUR 200,00 |
|   | 5 000 pieces – EUR 220,00 |
|   | 6 000 pieces – EUR 250,00 |
|   | 7 000 pieces – EUR 270,00 |
|   | 8 000 pieces – EUR 290,00 |
|   | 9 000 pieces – EUR 300,00 |
|   | 10 000 pieces – EUR 330,00 |
|   | 11 000 pieces – EUR 350,00 |
|   | 12 000 pieces – EUR 370,00 |
|   | 13 000 pieces – EUR 380,00 |
|   | 14 000 pieces – EUR 400,00 |
|   | 15 000 pieces – EUR 420,00 |
|   | 16 000 pieces – EUR 440,00 |
|   | 17 000 pieces – EUR 450,00 |
|   | 18 000 pieces – EUR 470,00 |
|   | 19 000 pieces – EUR 480,00 |
|   | 20 000 pieces – EUR 500,00 |
|   | 21 000 pieces – EUR 510,00 |
|   | 22 000 pieces – EUR 530,00 |
|   | 23 000 pieces – EUR 540,00 |
|   | 24 000 pieces – EUR 550,00 |
|   | 25 000 pieces – EUR 560,00 |
|   | 26 000 pieces – EUR 580,00 |
|   | 27 000 pieces – EUR 590,00 |
|   | 28 000 pieces – EUR 600,00 |
|   | 29 000 pieces – EUR 610,00 |
|   | 30 000 pieces – EUR 620,00 |
|   | 100 000 pieces – EUR 1860,00 |